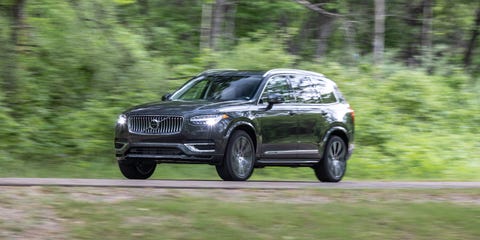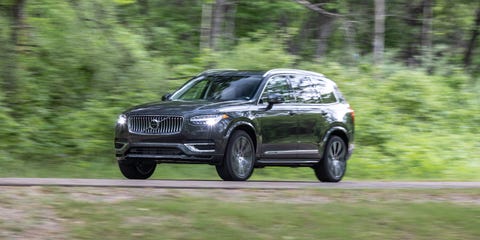 Andi HedrickCar and Driver
Volvo is working on a plan to become fully electric by 2030, and an enhanced plug-in-hybrid T8 powertrain is a steppingstone to that goal. The flagship XC90 three-row SUV receives the updated powerplant and also benefits from a larger battery providing extended all-electric driving range. But a growing number of fully EV luxury SUVs are more compelling.
Read the full review
1 of 42
The XC90's design has aged quite well, despite having been introduced for the 2016 model year.
2 of 42
This year's updates to the top-spec Recharge T8 powertrain are the most substantive to date.
3 of 42
The 2022 XC90 T8 drops the supercharger from the turbocharged 2.0-liter four-cylinder gasoline engine and adds a more powerful 143-hp electric motor that drives the rear wheels, pushing combined output up to 455 ponies.
4 of 42
A larger, 14.9-kWh battery pack has replaced last year's 9.1-kWh unit, and the XC90's electric driving range expands from 18 miles to 36 miles, by the EPA's yardstick.
5 of 42
In our testing, the additional power pushed our Inscription test vehicle to 60 mph in 4.5 seconds, 0.4 second quicker than a 2020 model we tested.
6 of 42
We didn't manage to eke out the full 36 miles of EV driving on our highway fuel-economy test, but the XC90 Recharge T8 delivered a respectable 29 miles before the gasoline engine kicked in.
7 of 42
Charging the battery away from home can be a pain though, as it can't be juiced by a DC fast-charger—that limits public-charging options to slower J1772 connections.
8 of 42
The XC90's appealing cabin is upscale without being ostentatious, and the first and second rows are spacious and comfortable. The third row is best reserved for the small in stature.
9 of 42
Our Inscription test vehicle came fairly loaded and featured luxury features such as leather upholstery, a Bowers & Wilkins stereo system, heated and ventilated front seats with massage, and an onboard air ionizer.
10 of 42
The XC90's handsome styling, nicely trimmed cabin, and emission-free driving mode are appealing, but a fully electric powertrain would make it far more compelling.
11 of 42
2022 Volvo XC90 Recharge T8
12 of 42
2022 Volvo XC90 Recharge T8
13 of 42
2022 Volvo XC90 Recharge T8
14 of 42
2022 Volvo XC90 Recharge T8
15 of 42
2022 Volvo XC90 Recharge T8
16 of 42
2022 Volvo XC90 Recharge T8
17 of 42
2022 Volvo XC90 Recharge T8
18 of 42
2022 Volvo XC90 Recharge T8
19 of 42
2022 Volvo XC90 Recharge T8
20 of 42
2022 Volvo XC90 Recharge T8
21 of 42
2022 Volvo XC90 Recharge T8
22 of 42
2022 Volvo XC90 Recharge T8
23 of 42
2022 Volvo XC90 Recharge T8
24 of 42
2022 Volvo XC90 Recharge T8
25 of 42
2022 Volvo XC90 Recharge T8
26 of 42
2022 Volvo XC90 Recharge T8
27 of 42
2022 Volvo XC90 Recharge T8
28 of 42
2022 Volvo XC90 Recharge T8
29 of 42
2022 Volvo XC90 Recharge T8
30 of 42
2022 Volvo XC90 Recharge T8
Advertisement – Continue Reading Below
This content is created and maintained by a third party, and imported onto this page to help users provide their email addresses. You may be able to find more information about this and similar content at piano.io